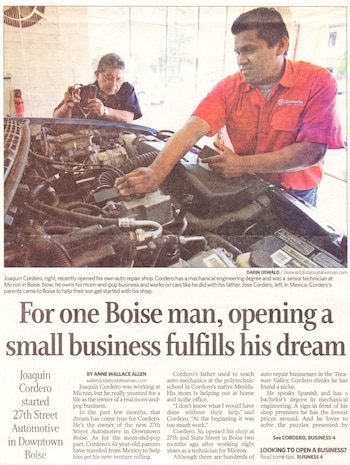 Joaquin Cordero, right, recently opened his own auto repair shop. Cordero has a mechanical engineering degree and was a senior technician at Micron in Boise, Idaho. Now, he owns his mom-and pop business and works on car like he did with his father, Jose Cordero, left, in Mexico. Cordero's parents came to Boise, Idaho to help their son get started with his shop.
For one Boise man, opening a small business fulfills his dream. Joaquin Cordero started 27th St. Automotive in Downtown Boise , Idaho (Northend).
Joaquin Cordero was working at Micron, but he really yearned for life as the owner of a real mom-and pop business. In the past few months, that dream has to come true for Cordero. He is the owner of the new mechanic shop 27th St. Automotive in Downtown. As for the mom-and-pop part, Cordero's 61-year-old parents have traveled from Mexico to help him to get his new venture rolling.
Cordero's father used to teach auto mechanics at the polytechnic school in Cordero's native Merida (Instituto Tecnologico de Merida). His mom is helping out at home and in the office. "I don't know Cordero what I would have done without their help" said Cordero. "At the beginning it was too much work".
Cordero, 36, opened his shop at 27th and State Street in Boise two months ago after working eight years as a technician for Micron. Although there are hundreds of auto repairs businesses in the treasure Valley, Cordero thinks he has found a niche. He speaks Spanish and has a bachelor's degree Mechanical engineering.
What I like to do is fix stuff that other people can't fix" said Cordero. "That is a personal challenge to me". Cordero grew up fixing cars in his dad's mechanic shop in Merida, and worked in Volkswagen and Chevrolet dealerships in Merida and Cancun.
He moved to Boise in 1997. While working as an automotive technician, he took English classes at Boise State University. Eventually he worked his way up to the level of senior technician at micron, where he worked with engineers to repair equipment and design machines in the assembly area.
Then Cordero started to take classes at BSU toward a master's degree in Mechanical engineering. Meanwhile, he decided to pursue his dream of owning his own business and started his shop in Boise, Idaho. He wanted a job that would give him hands on experience. Cordero does mechanical work like repairing engines, brakes, transmissions, tunes up, electrical diagnostic, clutch, maintenance, oil changes, suspension work, shocks, fuel injections, computer reflash, etc.